It's Prime Time for Alternative Protein.
Meatless is now mainstream. 'Plant-powered' products are sprouting up on shelves at every turn. Even McDonald's and KFC are giving vegan options the green light on their menus. But how rooted in reality is the plant-based craze? Are consumers really ready to scrap the surf 'n' turf and kick kielbasas to the curb? Studies show that 30-50% of U.S. consumers are interested in reducing their meat consumption and two thirds are eating less of at least one meat (Johns Hopkins Center for a Livable Future). This less-meat momentum is driven by a complex combination of forces: increased knowledge around health and wellness, concerns over animal welfare, and the threat that animal agriculture poses to climate change.
But the notion that eating less meat is better for our health and the planet is hardly new news. Boca and Morningstar Farms started bringing plants to plates back in 70's. Quorn's been around since the 80's and while, like its predecessors, the company has seen an increase in sales along with the rise in flexitarian diets, it failed to fully capitalize on its long-term leadership in the category to truly own the current alt-protein movement. In comparison, Oatly— which launched in Sweden 25 years ago— honed its relevance, meaning, and product taste within the alt-milk category, resulting in revenue growth from $1.5M in 2017 to $15M between in 2018.
The old guard of meat substitute companies lost out on even greater growth for two reasons. The taste trade-off still wasn't worth it for most meat eaters, the packaging remains dated, and the brands were speaking to the wrong crowd— vegetarians and vegans. The U.S. eats more meat than any country in the world, after all. The reason the current movement has gained so much traction is because it speaks to people who are reducing their meat consumption without identifying as a non-meat eater. Would it surprise you to know that 95% of those who bought a plant-based burger this year also eat meat?
The power to transform the way Americans eat necessitates capturing the omnivores and the flexitarians. Finding the sweet spot for alternative protein lies in helping people cut back their meat consumption, not necessarily cutting it out entirely. So which brands have got it right? What stories are they telling through design and communication that have helped find meaning and relevance with consumers? We compare and contrast to see what gives 'em the sizzle.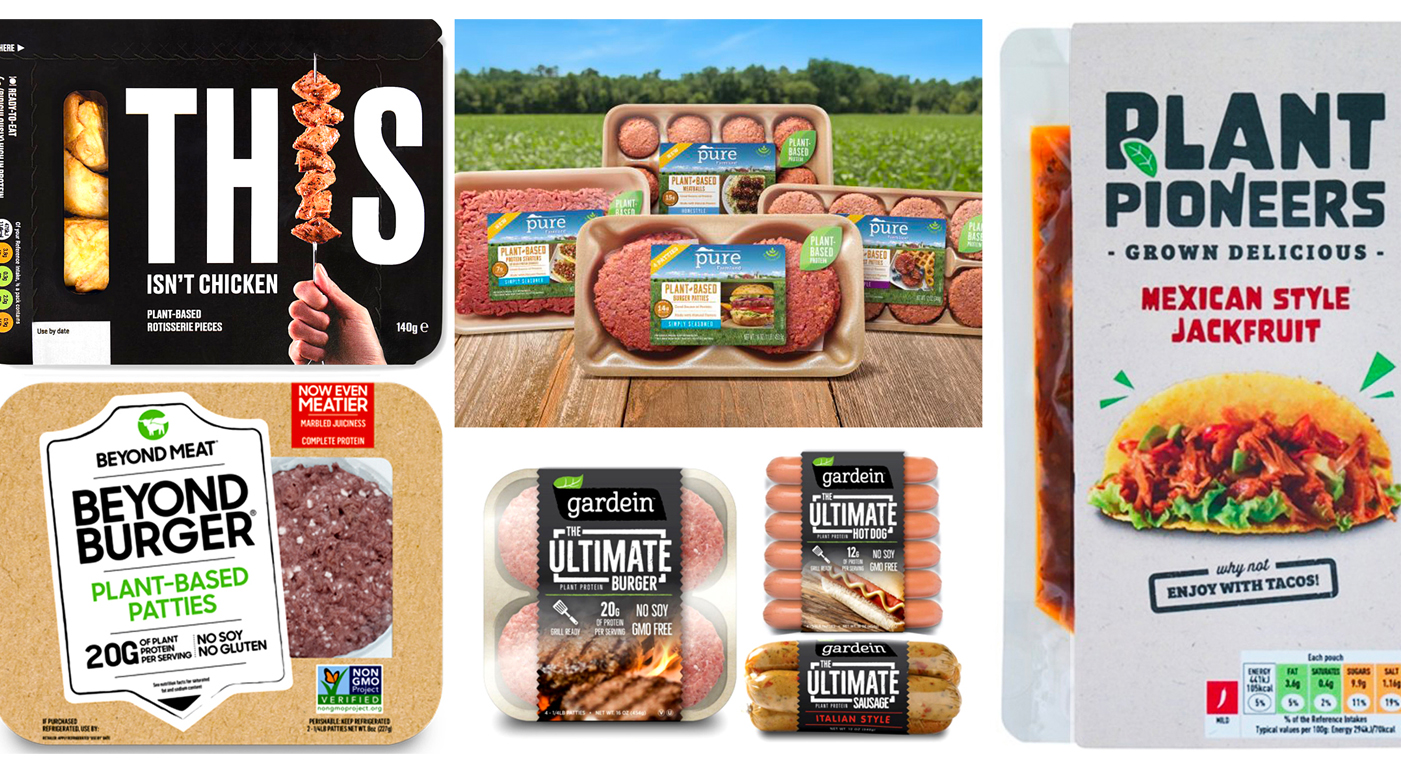 Meat Matchers.
There's no doubt that Beyond Meat revolutionized the landscape of meat alternatives. The company's ingenious decision to stock their burgers—which look and taste like real meat— in the refrigerated meat section of stores had omnivores doing double-takes. The package was the first to truly mimic contemporary beef patty packaging— placing preformed patties in a sealed tray, accompanied by small pieces of paper similar to how you might receive fresh meat from a butcher or deli market. U.K. brand, Vivera, followed suit and leaned into the codes and cues of charcuterie on its packaging, while Gardein's new Ultimate range positions its products as "grill ready." With black, bold packaging and photographs that reassure on taste, this 'I can't believe it's not meat' crew of brands has a unifying visual language that utilizes the appeal of meat as a selling point while avoiding the 'preachy' language of the vegan and free-from market. All of this serves to reassure meat lovers: zero meat can still mean zero compromise.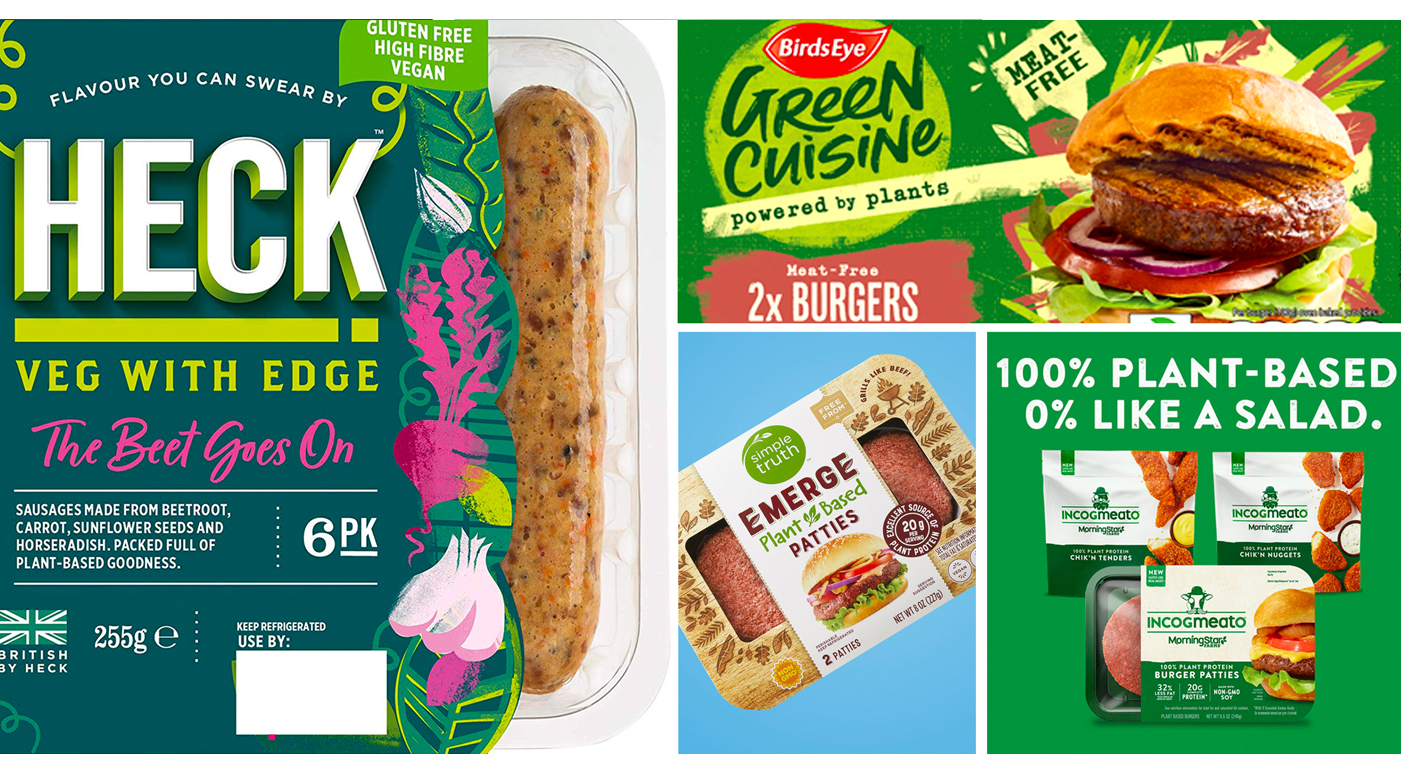 Well Planted.
On the other end of the spectrum, the plant pleasers: brands that align more closely with the veggie set, like Bird's Eye's Green Cuisine and Sainsbury's new Plant Pioneers range. Rather than leaning into the semiotic cues that surround animal meat, the packaging in this space displays an abundance of green, a proclivity for hand-drawn illustrations as a nod to more 'natural', and nomenclature that puts plants at the forefront. Less about providing reassurance around 'meat-like' taste, this space is all about cue-ing the benefits of sustainability and veg-heavy diets.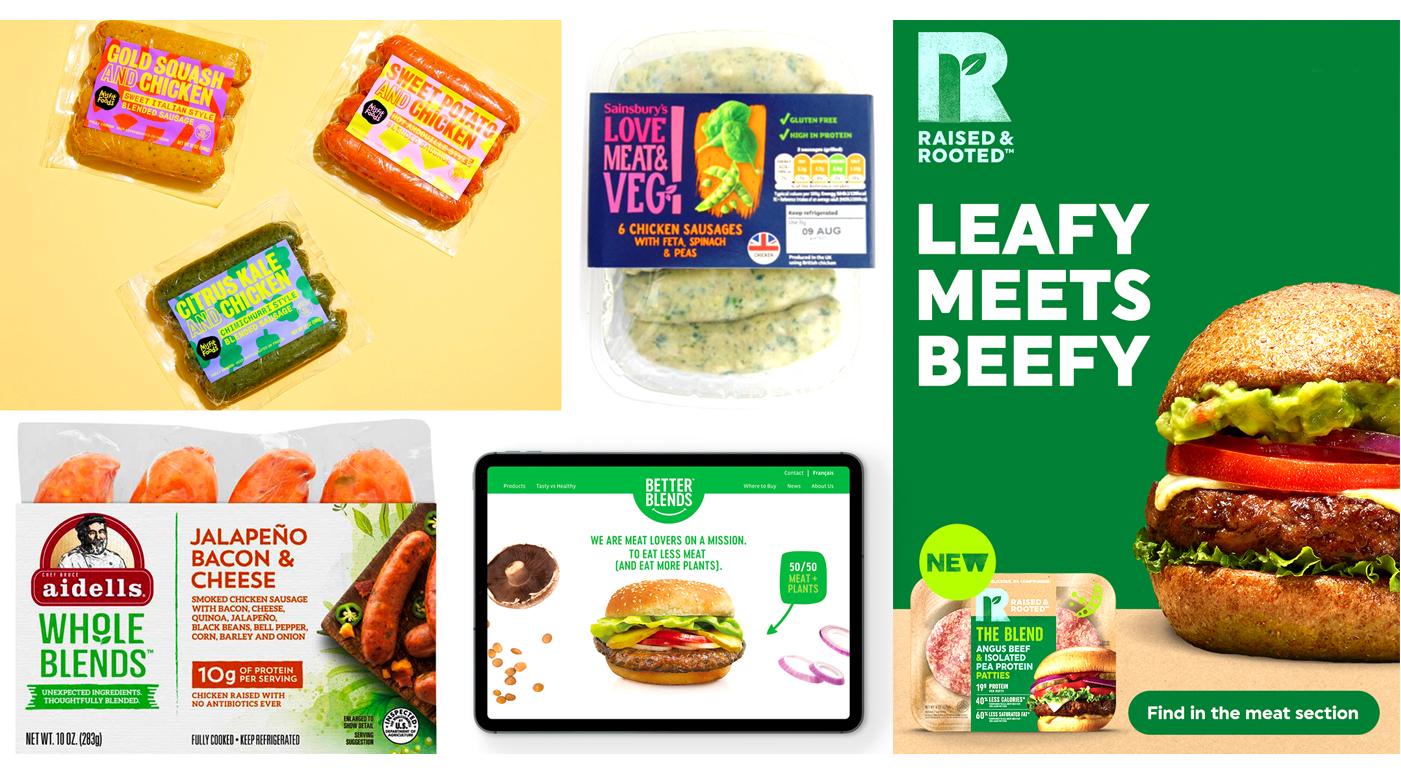 Hybrid Heroes.
Blending meat and plant proteins in food offerings is becoming a key supplemental strategy to improve food sustainability and public health. Tyson's Raised & Rooted range and Aidells Whole Blends offerings bring together the green color palette of products on the plant-side of the spectrum with the appetizing photography and bold messaging that associated with 'Meat Matcher' products. Offering the best of both worlds and one foot in the familiar, they also offer consumers an easy entry point into plant-based foods.
It's never been easier to eat with sustainability and nutrition in mind. Whether you're a vegan, vegetarian, flexitarian or reducetarian, the message is clear: meat consumption isn't an all-or-nothing premise. And vegan food isn't just for vegans. While there are facts to support the positive effects total avoidance of animal products could have on minimizing our environmental impact, the reality is that, for many Americans, small dietary changes are much more appealing and effective than eliminating meat entirely. Blended meats, in particular, give meat-eating Americans an opportunity to protect the planet and their health simultaneously. The moral glow might not be as bright, but it's a positive step in the right direction. And that's good news for everyone.